posted: September 25th, 2010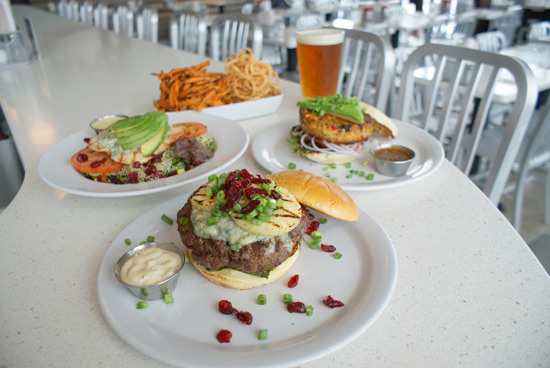 (image taken from TheCounterBurger photostream on Flickr!)

I am not a vegetarian. Ask anyone who knows me, or follows my stream on Twitter, I am a meat lover. When I have a burger, I will go so far as to only put cheese. If I wanted a salad on my burger, I would get that, but as I hate salads, I prefer my burgers with cheese...and grilled! Take your char burger and leave my presence now! People who enjoy char burgers may as well eat ashes out of an ashtray. Why would I want my otherwise fine burger burned to a crisp in a pretty pattern. Go away! I want a nicely grilled burger, dripping and juicy.
Now, with that introduction, you can imagine I am very selective when it comes to a burger. When The Counter opened up, I was happy to drive 30 minutes to Santa Monica every once in a while to savor their fine burgers. Luckily, The Counter has a local-to-me location in Studio City, California. Readers over at LAist know I had been waiting for the day. LAist actually ran a "coming soon" posting with one of my weak little BlackBerry pics.
I like The Counter burgers. Apparently, though, I need to be specific about this. I like The Counter burgers in Santa Monica.
In much the same way that Houstons restaurant in Pasadena is seriously outstanding, while many of their other branches ruin the food, The Studio City location has some serious faults. Allow me to outline:
Cooking
Every time I order my burger, I say "Medium Well". So far, it has never failed that every burger was "Well Done". Why not just send it back, you may ask. Simple: It takes too damn long to be served!
Restaurant Size
There's an Italian place I tried once for a business meeting on Sunset Boulevard called Le Petit Four. The tables were so damn close together, you felt as if the people sitting next to you (who were NOT in your party) might, in error, start eating from your plate, due to the uncomfortable proximity of said tables. Now, The Counter Studio City is not *that* cramped, but - damn. The tables are SUPER close together. As I am rather anti-social, I prefer not to bump elbows with people as I am eating a $10+ burger! I would think for the money I am throwing down, the place could lose a few tables, and allow the customers to have some breathing room. I did bring this up to a manager. Sadly, I guess they prefer to make more money, instead of making the eating experience more pleasurable for the customer.
The Chairs
If you look at the picture at the top of this blog, The Counter Studio City uses metal chairs. On the surface, there seems to be no problem with this...until you try to move one. You can try to be as gentle as humanly possible when lifting one of these light-but-loud beasts, but you will still hear "BAM!" when you go to carefully set one down. The damn things cause an insane amount of noise when they meet the ground. So, try enjoying your burger, while people are banging these loud chairs around, or the staff is banging them even louder as they are cleaning tables. Which brings me to...
The Bar
I am a proponent of sitting at the bar. You get served faster, you get your drink refills faster, and even though the seating on the floor is cramped to hell, the bar is surprisingly roomy. Now...the negative. I don't know about you, but when I am eating an expensive burger, the last thing I want to smell is the bleach from the used rag that they use on the bar. I went to sit down at the bar today, and before I got to the seat, the bartender gave the bar a wipe down. Now, that is nice (I like clean things), BUT...not only did she not dry the bar down after wiping it with the wet rag (read: she left it super wet), but the bar area reeked of bleach! Personally, I get ill at the smell of bleach, so now I am sitting at a wet bar, being smacked by the very strong bleach aroma. Fail! I had to wipe the damn bar off myself with a napkin just to have a dry bar area to set my phone down. Then, during my meal, the people to my left and right exited. Sure enough, here comes the wet bleach rag again. By the end of my expensive burger, I had a splitting headache, and was dizzy. Fun. Luckily Nora does not get as affected as I do, or else we both would have been running to CVS for Aleve (only I did that).
Romper Room
You have a kid. Congratulations, you can fuck. Guess what, Babies R Us? While I am saddened at your attempt at a "Kate Plus 8" sized family (way to be suckered into the multiple kid hype of late), and I am impressed that you can afford to buy your entire flock $10+ burgers, if your kid is 3 or under, then leave them the fuck home! Get a babysitter! Again...these are not cheap burgers. This is not In-N-Out. Hell! I never hear this kind of WHAAA WHAAA WHAAA racket in an In-N-Out. Apparently every family in Studio City who are not vegetarian eats at The Counter. From the waiting-to-be-seated people, to the too-close-for-comfort tables, there are 0-to-3 year olds EVERYWHERE! Again, imagine the extreme proximity of the tables. Picture the money you are throwing down for your burger (and getting it overcooked, consistently). Imagine trying to have a nice conversation, while trying to battle with the volume of the chairs. Now, along with that, you have to battle to even hear yourself over the screaming kids. I am not exaggerating. Over half the tables there were packed with kids today. Hint to parents: If your kid is screaming bloody murder at a restaurant, ignoring them punishes EVERYONE ELSE in the restaurant! Take the damn noisemaker outside, or pay for my fucking meal. Learn how to be a parent! "Timmy, can you please be quiet?" is not parenting. "Timmy, shut up, or we are leaving RIGHT NOW. This is your only warning!" is parenting! This poor quality YouTube clip summarizes this paragraph perfectly.
Summary: I paid $31.00 (plus $4 tip) for two burgers, two Cokes, an order of fries, an insane cacophony of metallic objects slamming around mixed with babies screaming, and a headache induced by the noise and the bleach.
I chose not to mention the obese man to my left, reeking from body odor and bad breath. That one is not the fault of the restaurant.
Purpose of this post: If you want to go try The Counter, skip the Studio City location. I will be, from now on. I've had enough.