posted: May 8th, 2008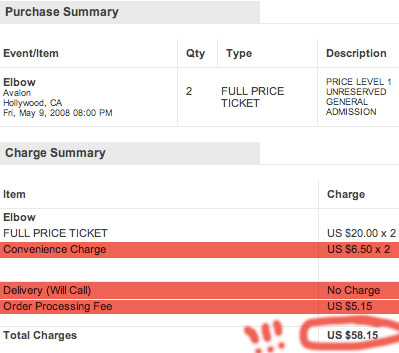 Elbow. Avalon. $20 tickets. Sweet.
This was how I felt, until the "TicketMaster" experience.
Let's look over the final bill..
* Yeah, $20 each for the tickets. Nice.
* $6.50 "Convenience Charge"...TIMES FUCKING TWO! Who the fuck came up with that shit? It surely doesn't cost TicketMaster $13.00 to serve up the page that I am ordering from. If it does, wow, please let me redesign your web site. I would love to be in on some of that dirty corporate money!
* Delivery. Here's a mindfuck. To print out the tickets (using MY own printer, ink, and paper), I would have to pay $2.50 for that honor. To have TicketMaster print out the tickets, with their own ink and paper, and have them waiting for me at the box office, is FREE!?! Isn't that a bit backwards?
* Order processing. Another fucking $5.15. Where does that price come from, exactly? That ".15" shows there is some sort of method to the absolute corporate madness. Please explain it to me. You can use big words. I is smartz.
Now, the real head spinner. After getting hammered $18.15 (keeping in mind that I bought two tickets, at $20 each - that's almost another fucking ticket!), I get an email telling me that because of my purchase, I am entitled to two free music downloads at iTunes. Without ranting on how iTunes AAC files are absolute shit compared to a proper CD copy of a song (if you even dare to battle me on that, I will smack you so hard that - hopefully for you - your hearing might actually return, since you obviously have the hearing range of Pete Townsend), let's reflect on my two free songs. How should we label this...
* Two cubes of ice after giving me a hard kick to the scrotum?
* Two cotton balls after punching me in the nose?
* Two dabs of vaseline *after* fucking me in the ass?
* Two licks off of your ice cream cone after you dropped it in doggy doo?
* Two votes for McCain after I voted for Obama?
I could go on, but I need to prepare my dinner. Two helpings of "you can't do shit", on a new shiny plate of "deal with it".
Fuck TicketMaster.