posted: December 10th, 2008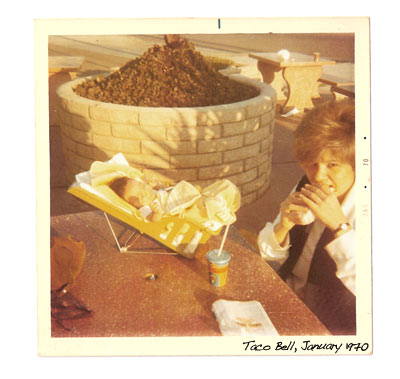 (above image)
Myself, at three months old, learning the fine art of fast food dining. Taco Bell, Lankershim Boulevard, North Hollywood, January 1970.
My mom passed away around 11pm, on March 18th, 2006, due to complications from melanoma, liver cancer, pneumonia and infections (both from an improperly installed port-a-cath, and from the melanoma).
It is now December 10th, 2008. Tomorrow is her birthday, and I am finding it very difficult to deal with.
My mother had a hard life. Abuse, bad health, and overall pretty much rotten luck. Even how I came about was in a bad way. She made sure, however, that I had a better life.
As a child, she was constantly teaching me. She gave up her life, for me.
I miss having her as a sounding board for my work. I miss the encouragement. I miss the love.
The years close to her death were hard ones, not only due to her health, but for emotional reasons. There are words I wish I could take back, and actions I wish I had not taken. Though few, they will always be an open wound for me.
My mom loved holidays. Usually, I spent them just with her. Now, no matter what I do or who I am with, those holidays just don't have the same meaning.
I miss my mom.
Happy Birthday Mom.
Daniel