posted: August 23rd, 2010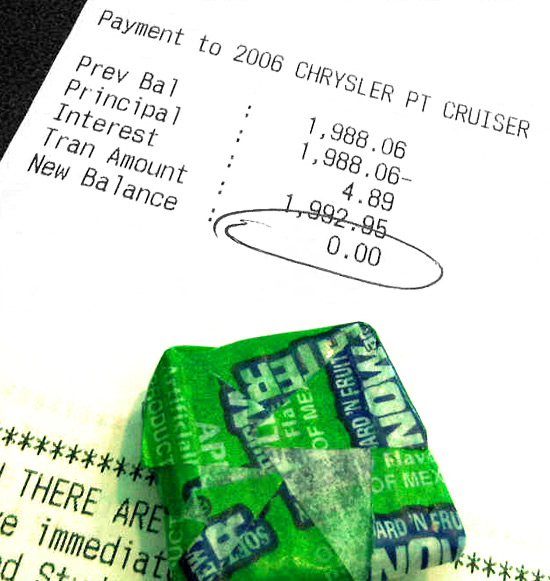 "I don't like to dream about gettin paid So I dig into the books of the rhymes that I made To now test to see if I got pull Hit the studio, 'cuz I'm paid in full" Eric B & Rakim - "Paid In Full"
2005 was an interesting year for me. In order to please my (then) girlfriend, I over-extended myself, talking on many more jobs than a sane man would take. This cut deeply into my personal time, but the reward was a lot of money. I thought that in the end the money would make everything better. Well, it didn't.
By the end of 2005, my girl dumped me, and my Mom was in a hospital bed about to pass away from cancer (cancer isn't worthy of capitalization). I even got bit on the leg by a dog (now and forever called "Cujo", by me at least) that used to love me. 2005 ended BAD, but not everything was bad...
At the age of 36, I finally had enough money (with help from my credit union) to get myself my baby: my 2006 PT Cruiser. I never had a car before that. Simply put, I just didn't have the money. I was also rather stubborn. I wanted my first car to be a new car, with that new car smell, and a happy warranty. If all the rich kids in my high school back in 1987 could have new cars, I wanted the same! I just had to wait close to 20 years to do it.
(NOTE: I don't want to hear from people hating on my little PT. I rented these things for months before I bought one. It's run beautifully for five years, with *me* driving it. If you knew how fast and hard I drive a car, you would be impressed by my little PT surviving. Sure, it's not a Ferrari, it's not even a BMW, but it is my baby, so shut your trap with your feedback on my car!)
So, on December 29th, 2005, I took delivery of my Signature Series (fancy way of saying a Limited Edition without a sunroof) black 2006 PT Cruiser. I finally did it. I didn't have a girlfriend to share it with, my Mom only had the chance to be in the car once before she died three months later, but December 29th was a huge day for me.
Growing up in Burbank, and seeing all the rich kids of Warner, Disney and NBC employees getting cars for their 16th birthday, while I lived at poverty level, was difficult. Hell, I never had money. I grew up very poor (bet you didn't know that, did you). I struggled for years to get any money. I had enough to get by, but never a proper savings.
I was so proud when I got my car. It took me twenty fucking years to save the money, but I finally did it. *I* did it. No one helped me. I didn't have a rich Mom to lend me money. I never have had a Dad, period. My hard fucking work got me this car, and I was DAMN proud of that.
Today is another big day. At a little after 4pm, on August 23rd, 2010, I was able to finish paying off my car, months earlier from when the final car payment was due. Special thanks to an unnamed client for hooking me up with the job that made it possible.
As a matter of fact, a huge thanks to all of my clients, for their faith in my work, and their loyalty: depechemode.com (and related solo sites), Peter Facer, Wayne Beauchamp / SPFX Inc, Eric Beauchamp, Chris Carter / Breakfast With The Beatles and Henry Diltz (and Gary).
So, you might ask, "Daniel, why is there a candy on your receipt?". When I walked into the credit union, and saw that I had the funds to pay my remaining car loan off today, I did it...happily! After a minute, the nice lady behind the counter said "OK, there you go. You are paid in full." For me, that wasn't enough. I asked why there wasn't confetti and balloons falling from the ceiling. Why wasn't there a cake. Hell, can't a guy get a cupcake? I just paid off a car loan! I *OWN* my car! I know this is not a big deal for some people, but for a kid who grew up on welfare, and who never expected to be able to own any nice things, this is damn huge. The lady reached into her drawer, and put a Green Apple Now & Later on my receipt. The picture above was taken right after she did it.
Look Mom...I got a new car!