posted: October 25th, 2009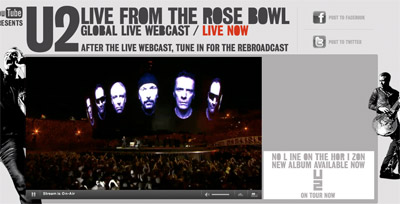 I had always been a fan of U2, but U2 lost me with "All That You Can't Leave Behind".
It wasn't the huge live shows. It wasn't the activities that the band did outside of creating music. U2 lost me when the music simply starting sucking.
Nowadays when you hear a new U2 song on the radio, you know it is a U2 song by the vocals of Bono, the guitar of The Edge, and the limp, phoned-in quality of the song. Every song sounds like every other song. They sound like songs that were being worked on, but with album release dates and impending tour plans approaching, they just rushed them out, incomplete. There is no amazing U2 hook. There is no powerful vocal. There is no stunning guitar work. It's just...there.
Honestly admit the last time you thought to yourself "I want to hear a great U2 song" and you put on tracks like "Stuck In A Moment You Can't Get Out Of", "I'll Go Crazy If I Don't Go Crazy Tonight" or "Sometimes You Can't Make it On Your Own". Excluding the Trent Reznor remix of "Vertigo", nothing that U2 has put out since 1997 has fucking mattered, and that makes me sad.
U2 played a huge show at the Rose Bowl tonight (a big deal, if you ignore that Depeche Mode did that 21 years ago, or The Cure did it in 1992). The fact that their show has a "360 degree" stage was the huge selling point in the article in the October 25th edition of the L.A. Times. The article didn't mention the music. The article just highlighted how many additional people the band can play to due to a 360 degree stage.
The music doesn't matter anymore, as long as they can play to a huge crowd.
I can hear the U2 fans reading this blog entry, and getting all bent out of shape. My question to you is this: Why the fuck aren't you getting pissed off that the band hasn't put out anything good in over a decade!?! You are willing to pay $251.50 (PER TICKET) to see them pay a set list heavy with shit songs? Why? Just because it is U2?
I watched the webcast tonight. I endured all the shitty post-1997 songs. I enjoyed the good pre-1997 songs (when the webcast feed wasn't glitching). Am I sad that I didn't go to the show? Not at all. I don't get off on standing with 90,000+ people, and hearing only half the songs I like (and especially not for over $250!). I don't care how big the damn stage is.
Blackberry loves U2. I stopped loving them when they stopped putting out music that I wanted to hear.
Bono, Edge, Adam, Larry. I have a plea. Stop rushing out new records. Go back to the drawing board, and put out an album that is worthy of your name. I don't care how long I have to wait. I don't care if the stage doesn't have a huge "spaceship" that looks like a bad clone of the spider creature from "Wild Wild West". I just want to hear a fucking good U2 song again. It's been too fucking long!
U2, R.I.P. - 1979 - 1997
UPDATE FROM END OF WEBCAST: LiveNation, Universal, Blackberry. Seriously? Did he just name check the fucking sponsors!?!?!? Is Bono seriously thanking people at the end of the show? Even worse - is Bono reading prepared corporate "thanks" from a fucking teleprompter!?! UGH! I give up!