posted: March 30th, 2011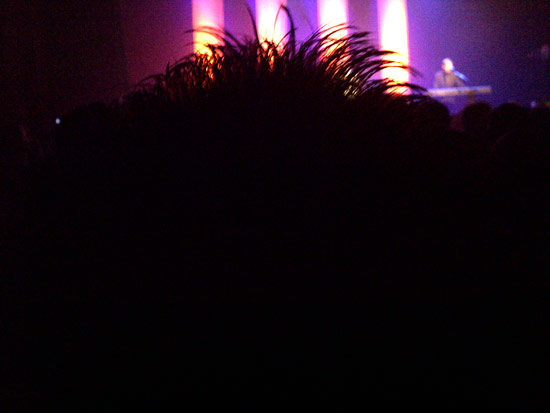 Tonight was the final night of the new OMD tour. A band who has not toured in decades, and yet who killed it tonight. A great performance.
I was psyched for this show. I was psyched when I scored floor tickets (no thanks to Ticketmaster raping me with service charges). I was psyched when I saw their pre-show appearance at Amoeba Records. I was psyched all day of the show. My enthusiasm dwindled about 30 seconds after hitting the door of the venue. One simple word: douchebags.
Douchebags to the left of me. Douchebags to the right of me. And, especially, douchebags coming from the back (spilling their drinks as they pry their way through the floor crowd), only to decide their prime concert location is right in FUCKING FRONT OF ME!
Over the years, I have gone to less concerts. I love live music, but I absolutely hate the people at the shows. At any concert, I have been guaranteed any (or all) of the following:
"OMG, I LOVE THIS BAND!"
Version 1: The girl (99% of the time) who insists on screaming that sentence, at the top of her lungs, to anyone who makes the error of showing her any attention. This is almost always followed by the band starting to play their biggest hit, and the girl saying "What song is this?"
Version 2: The super fan who feels the need to tell their (annoyed) friend every anal-retentive fact about the song currently being performed live. This usually involves either a shrill voice that would shatter glass, or a loud voice that manages to cancel out the amplification behind the band.
Version 3: The person (usually a girl) whose daddy made a phone call, and got AAA laminates and passes for her and her friends. These people are at the show solely because it is hip to be at the show. They don't know the music. They have never seen the band before. They spend most of the show taking pictures of themselves, with the band in the background, to prove to their "friends" that they were really there. All the time, I am standing there, wondering if I would really do any time for causing bodily harm to any of these people. Surely a jury would understand that my concert experience was being ruined by a Kardashian/Lindsay/Hilton wannabe...right?
DUDE WHO SMELLS
Usually involves someone drunk off their ass, "lost in the music", spilling their $10+ alcoholic drink all over the place (including on me), and dancing wildly. This person usually has a gift of body odor that will eat through any existing antiperspirants, and - lucky me - I am stuck right next to them. As I stand there, missing the expensive concert, I try to distract myself from the smell by playing a game. "Is it his ass?" "Do his armpits qualify as weapons of mass destruction?" "Did this fucker bother to shower at all today?" Usually, this does not work, and I am forced to miss even more of the show, as I try to move to a different location. That bring me to...
MOVING DURING A CONCERT
Acceptable: gently working your way through a crowd to be near a friend who you were already standing near.
Unacceptable: Roughly barging through a crowd (with obligatory drink spillage), to get to your loud ass friend (who is ALWAYS standing in front of me), and then proceeding to have a conversation about some bullshit. Hey Einstein...If there is no space in front of me, and you are a foot taller than me, then your ass doesn't belong there.
THE PHONES
If in the first five minutes of the show, your phone isn't taking good pictures, it won't fucking take a good one for the rest of the night. Give up, and just watch the fucking show! I did not pay a shitload of money for a concert just to watch the show through your phone.
PERSONAL SPACE
Fuck that. You get none! You get to enjoy the sweat of the people surrounding you. If I leave a concert sweaty, is it too much to ask that it is solely my own sweat on me?
LOUD BITCH (male or female)
I have touched on this in earlier blog entries. This is the person who feels the need to talk as loud as possible through the entire show, about anything, as long as it has nothing to do with the show. I don't know about you, loud bitch, but I paid a lot of money for this show. I want to hear the show. I don't want to hear your babbling. You must have paid as much as me, right? You're sitting right next to me...you must have. Do you really go and pay all that money, just to idling (and loudly) chat with your friends during the concert? Do everyone a favor. Stay home, play the band's music on your multimedia device of choice, talk until your vocal chord bleed, and donate the money you would have spent on the concert ticket to a good charity. Everyone wins.
If you have ever seen me at a show, going in happy, and pissed off coming out, now you know why.
To all of you who qualify for any of the above, think of this. One day, I (or anyone else who can't stand your type at concerts) might snap. Do you really want years of repressed anger showering down upon you, simply because you are a screaming douchebag?
Here is your lesson, douchebag: Shut the fuck up, turn off your fucking phone/camera (unless it can actually capture a good enough sound and picture quality that I will WANT to see on YouTube later), dance within YOUR personal space, and for FUCK'S SAKE, take a fucking shower before you go to the show! If you body odor eats through a fresh shower, just fucking stay home. Extra cologne is not the cure!
Did I mention that I love OMD. I wish I could have enjoyed the show.