posted: December 4th, 2007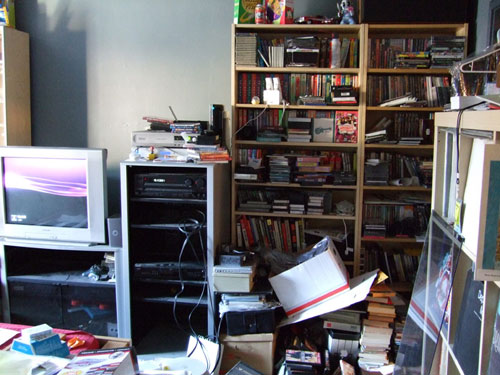 Photo note: This picture was taken mid-deconstruction. My apartment is not this much of a mess!
When my mom passed away last year, I inherited a frightening amount of DVD's. Even after dumping hundreds of Horror titles at Amoeba, I still had almost 1000 titles left! I was rather uncreative, and quite busy, so I just shoved all of the DVD's into Ikea Billy racks. Now, as I live in a tiny apartment, and was storing close to 1000 DVD's - in rows - against my bedroom walls, my bedroom felt more like a Public Storage facility, than a bedroom. Not exactly good for sleep, or activities with women.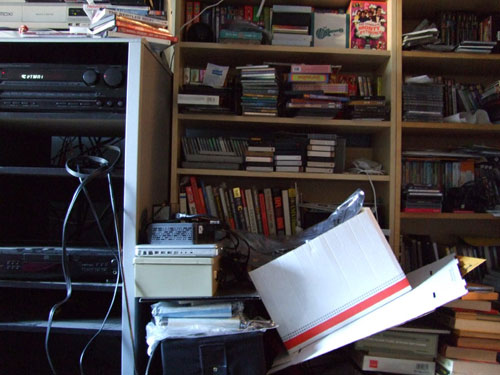 Unacceptable!
Enter the Ikea solution: The Hopen dresser!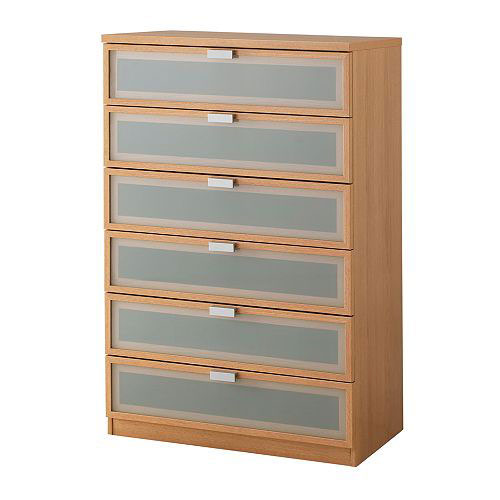 While the furniture is technically designed for typical bedroom storage (under garments, socks, sex toys, et cetera), I noticed while shopping at my local Ikea that each drawer *perfectly* fit two rows of DVD's! Not only that, but my bed is also from the Hopen line! Result!
Side note/Joke. Whoever is naming these Ikea items has a twisted sense of humor. A Hopen bed (I am a hopen to get laid?). A Jerker computer desk (I should hope that I wouldn't have to spell that one out for you, but I will give you a hint: pr0n). Ugh!
Anyway, back to the dresser construction. I found my storage solution! Now, that should have been "it". Solution has been found, so I should get to construction...right? WRONG!
While at Ikea, I was looking at the fronts of the drawers, and noticed that they were made from a semi-transparent smoked glass. Oooh....possibilities.
So, after waiting for the Black Friday Ikea sale, and after buying some office supplies, I was set to hack the Hopen.
Materials used:
* 2 Hopen dressers (duh)
* 24" wide format paper (roll)
* HP 1220 13" x 19" printer
* Epson Expression 836XL 12" x 19" scanner
* Mac
* X-Acto knife
* Yard ruler
* Time
Deciding what to put as images within the glass bits on the dressers was actually more difficult than I expected. I created a number of small hack mockups in Photoshop, just to see if the idea was even worth the time. While the Elvis record label and Revolver cover did work great, other items were...well...not so much.
So...to work. First, I scanned my Elvis vinyl label (3600 dpi), and my Revolver vinyl cover (2400 dpi). A few weeks later (I kid...), I threw the scans into my Photoshop drawer template, and got to work creating the 28" by 4" strips.
Printing out the strips was tricky. I had to cut out the paper from the 24" paper roll. Basically, I cut pieces approximately 32" long (I used a drawer front as a rough length template), then cut those pieces into 12" (approximate) wide strips, to feed manually into the wide format printer.
About 30 minutes later...uncut artwork: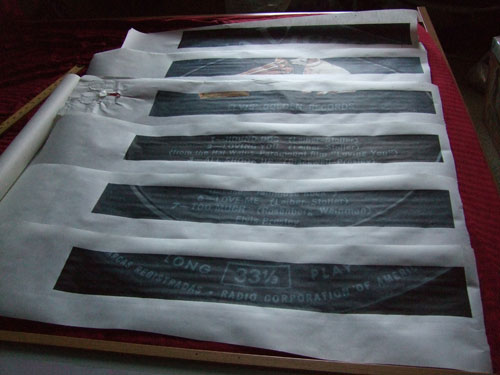 Note the first image. You can see that my HP printer, even with a custom paper size set, still tried to eat the paper. Grrr. The second image reflects the extreme size of these printouts (as well as promotes the fact that I buy a lot of Ikea stuff).
After printing out the artwork, I used one of the boxes that the Hopen came in as a quick cardboard cutting surface, and set forth cutting out the artwork strips: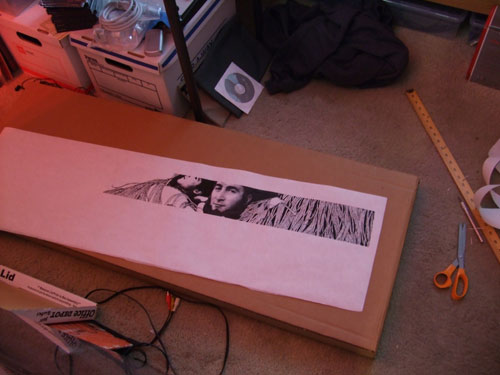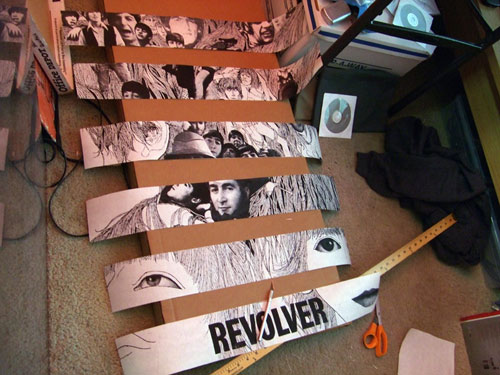 As I assembled each drawer for the dresser, I added the artwork strips. Simple masking tape (multiple pieces, naturally) is holding the artwork within each drawer front.
After a few hours of construction, now not only do you have nice DVD storage, but it looks a bit cooler: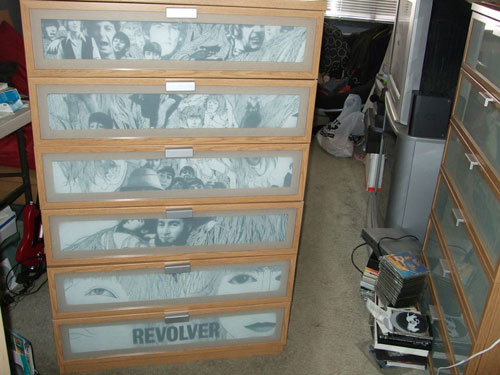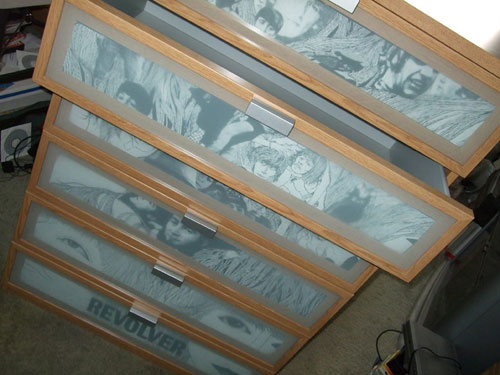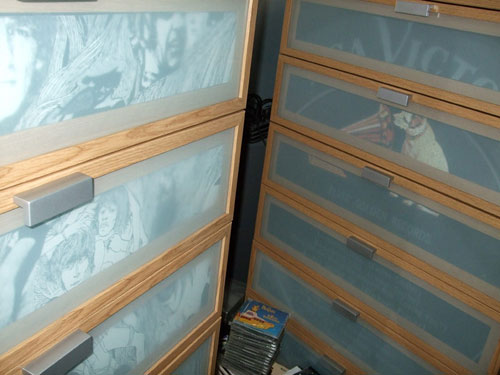 Cool.
Hope you all enjoyed the hack.
If you want details on the dimensions of the artwork (to make your own dressers), email me.