posted: December 29th, 2008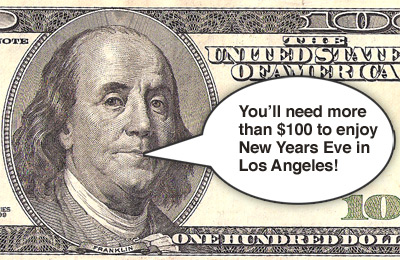 From the L.A. Weekly NYE 2009 party page:
DJ AM / Travis Barker @ The Wiltern: $150 / $225 per person
Giant Maximus: $75 / $155 per person
LAX: $100 / $1,500 per person
Social Hollywood: $125 / $10,500 per person
Paramount Pictures Studio Backlot with Katy Perry: $100 / $12,000 per person
Fuck that!
I'm going to stand on my cold street corner, count backwards from 10, and at zero (the stroke of midnight), I will pull the string on some 99 Cent Store party poppers! Then, I will go back into my warm apartment, and tally up all the money I just saved.
Seriously...why the fuck would / should I spend money to go hang out with loads of strangers, when I won't do that when it is for free?
Watch a DJ spin? I can put a mirror in front of my DJ setup, and do that for free (and better, and without freezing my nuts off in the cold)!
See Katy Perry? Yeah, from a distance, since I don't have a daddy to cry to in order to get the $12,000 VIP booth seating.
Hang with the cool L.A. people? I don't have enough Penicillin and AirBorne.
Sure, I could get drunk and "enjoy" myself, except for the issue that I don't drink, and don't like being around drunk people.
Fuck New Years! At the end of that countdown, it's just another day.