posted: January 12th, 2009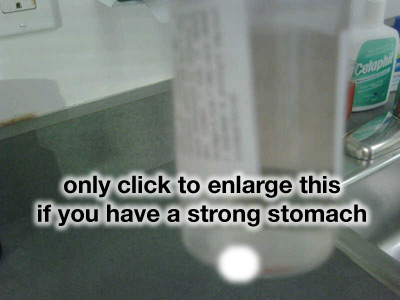 Today I returned to my doctor:
* Six stitches out of head. Check.
* Results of biopsy on cyst: "It's just a cyst." Specifically, a Pilar Cyst. No cancer. *relief* As Cancer is what got my mom, and a LOT of my relatives, I am rather paranoid about the big "C" now.
* Removal of first (of 6) moles from nose area.
The procedure is as follows: you get stuck with a needle, numbed up, then the doctor takes a scalpel, and literally cuts off the mole, then finishes up by cauterizing the wound (essentially, burning it). A quick procedure, done with my eyes closed (I am a pussy). The needle is a bit of a sting. The numbing fluid burns to hell and back. The rest is ok, but the smell of the cauterizing does get your attention.
So, in two more weeks, I'll know if the mole is cancerous. Until then, I will be alternating between waking up in cold sweats, and trying to enjoy every minute of the day.
Thanks to everyone for the emails and the Facebook comments. I'm, for the most part, doing fine. I'm still working (just interviewed Fletch today), and still hanging in there.
Here, I'll share a funny story from today before I log off. As I am a Valley boy, I am not always completely aware of everything happening on The Westside. I went to park on Wilshire Boulevard today. The meter flashed "Fail". Result! Free parking. All is fine. I go to my appointment. I come out, and had a mini-shock. I noticed the sign above my car. Tow Away Zone: 4pm to 7pm. It was 4:17pm. OOPS! No wonder parking was so easy to find. Good thing the car was still there, and with no ticket. I forgot about Mayor Tony's little traffic congestion solution. The swarm of parking enforcement nazi's all over Wilshire should have been a reminder.
Here's a quick pick of the result of today's procedure: a bloody band-aid. As it is a covered wound, I don't think you all need me to obscure the image, like I did above. :P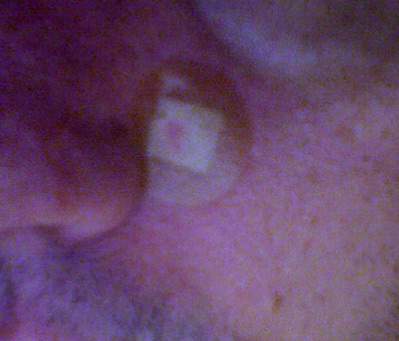 Now if you'll excuse me, for the first time in two weeks, I get to wash my hair. EWWWW!!!!