posted: March 17th, 2009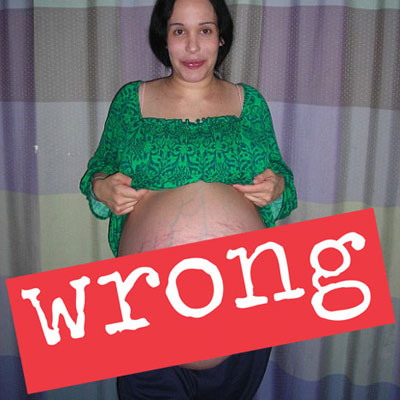 An Open Letter To The Media
For years, I have suffered through local TV newscasts. "Storm Watch" when there are a grand total of five drops of precipitation. "Sweeps Week" "news" stories that are nothing more than borderline Skinemax features. "News" stories about people that are not news worthy (Paris Hilton, [any] Kardashian, et cetera). "News" exclusives that are simply free promo spots for the companies that own the TV networks (Dancing With The Stars or Disney "News" on ABC, American Idol "News" on FOX, et cetera). What I saw tonight, though, beats it all.
Nadya Suleman, "Octomom", bringing home a few of her litter from the hospital.
I will take a moment for my disclaimers. I am not a fan of gossip crap. TMZ is not bookmarked on my web browser. I do not make time for Extra, Entertainment Tonight, Access Hollywood, or the other "Entertainment" shows. If I turn on the TV for news, I want actual news. As for Suleman, she is pure and simply a freak that is a definition "attention whore", and is jeopardizing the lives of 14 children in the process. Is it a miracle she had eight kids? No. It is stunning that someone LET her have eight more to add to her litter of six!
Tonight, I witnessed KTLA (Channel 5), KCAL (Channel 9) and KTTV (Channel 11) all break for the "Breaking News" that a few of the Octomom litter were coming home. Now, let's analyze this. Some psycho woman, with no job, no money (yet can afford plastic surgery), no man in her life, no proper future, and a questionable mental capacity, had eight kids. Sure, the number might be impressive, but (to state this again) she already had six kids! Now, an unmarried broke woman has 14 kids. This is not "Breaking News". This is child endangerment. This is not "Entertainment", unless you are the kind of person who enjoys watching trains collide. This woman is a mess. The fact that three respected local news channels chose not only to break from actual news of the day (Obama visit to SoCal on Wednesday, AIG thieves enjoying bonuses while we all starve, et cetera) to spend a sizable chunk of broadcast news time to cover the "event" of this sick woman essentially "coming home" is stunning. Why is there a need for the HD Telecopter to show me paparazzi clinging onto the side of an SUV. Why do I need to be shown "Live interviews" with the mouth breathers who elected to waste their time camping in front of a crazy lady's house.
Why is there anything on the TV other than a newscaster simply saying "Octomom has been allowed to take a few of her children home today." That one sentence, with a head shot of Angelin....Nadya, and that's it. Bury that somewhere towards the end of the newscasts, for the dozen people who genuinely gives a damn.
You know what, I will make you a deal. You all can keep your "Storm Watch". You can keep your high speed "pursuit" coverage. You can keep all the advertising crap you shovel down our throats on a daily basis that your stations owners force you to cover ("Breaking 'Dancing With The Stars' news next!"), but for the love of whatever you respect or worship, please stop carrying this Octomom type crap.
When you watch TV, and think that seeing Paris Hilton would be less aggravating than the crap you are being force-fed, something is definitely wrong.
For the record, after I hit three channels with this "Breaking News" crap, I left the room. I couldn't take it.