posted: July 25th, 2009
So I went to the Burbank Mall on Thursday. I'm leaving Bed, Bath And Beyond and heading back to my car. I see a puddle, and thought nothing of it. Sadly, my Adidas sandals did not agree with the oil and water mixture of the puddle...
The Evil Puddle
I slipped with my left foot, and ended up landing on my right knee. As I was falling, I could tell my right knee would end up nailing the pavement hard, so I tried to instead lean into my right fist, and have that soak up most of the fall. Sadly, I forgot I was holding my car keys in my right hand.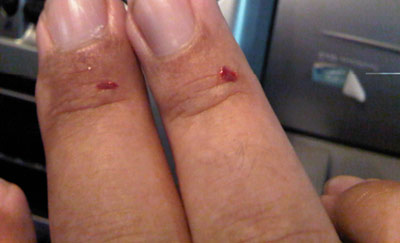 Nice, deep puncture wounds from my keys...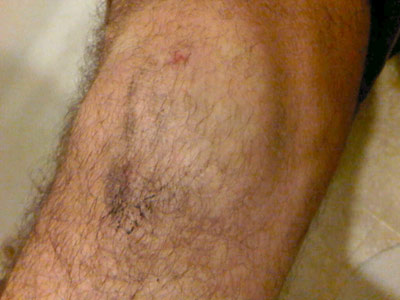 Nasty black oil/tar crap from the puddle, and two bloody bits (one is under the oil)
It's a few days after. My right knee/leg is sprained, and my fingers are bruised. Even typing hurts.
Grrr.....
Stupid puddle!