posted: July 27th, 2009
On Thursday, I had an accident in the Burbank Mall parking lot. I have no idea if that triggered what is happening now, or if the events are unrelated, but I am having a sequel to my initial kidney stone from last year.
Friday morning, I woke up with screaming pain. I could tell almost immediately that it was another kidney stone. Dammit! The pain lasted all day. I was trying to "man up", and just work through the pain, but - damn. It was just insane.
Saturday. Wake up, and I was only slightly constipated (hey - don't complain - this is a full disclosure blog - you will get details like that!). Yay. False alarm? Seemed like it. Went upon the daily routine.
Sunday morning, 4am. Woke up starving...and in extreme pain. Fuck. Spent most of the day drinking water and lemonade, eating (with, sadly, no food leaving my body - bloat!), and in agony. By mid afternoon, I was lying in the shower, spraying scalding hot water on my abdomen (kidneys). It was the only thing slightly easing the pain. By 8pm, it was too much. Unlike the previous kidney stone, I needed medical attention.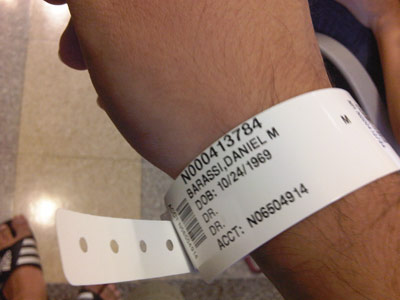 Checking In
I checked in around 8pm, Sunday night. I was asked my pain level (1 to 10). It was a 5...and growing!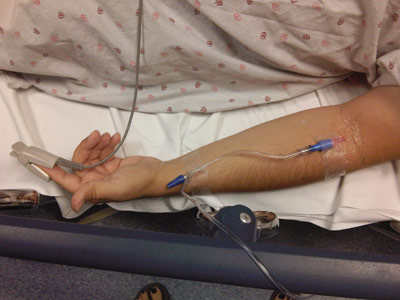 The Drugs
After waiting over an hour in extreme pain (my pain level was around 9), I finally got some pain meds. I say finally because of all my fun allergies. Thanks Mom for being allergic to most pain meds, and passing that along to me! Another 20 minutes, and I was finally starting to relax, though the I.V. hurt.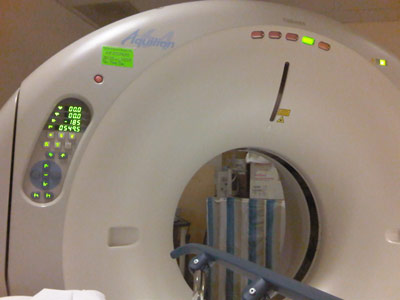 The Catscan
I guess we have finally hit the future. No x-rays here. A fancy catscan machine (Toshiba!?!).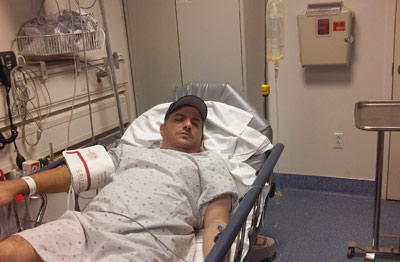 The Wait
After waiting for close to another hour, we finally got the results. "You have a kidney stone". Duh! I know! Remember? I said that when I walked in! A 7mm stone (slightly bigger than a quarter inch) is currently trying to make it's way down, but was lodged. Fun.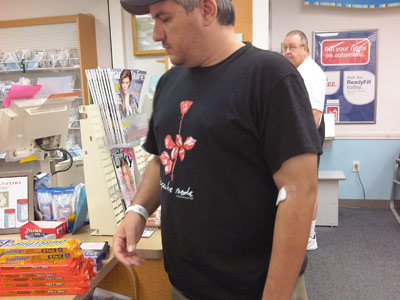 The Drugs (Part 2)
Thanks to my new friend Vicodin, I am typing this blog up. Sadly, thanks to my new friend, I am typing this. The explanation: The meds they gave me in the hospital were great, and got rid of my pain. That, sadly, is not what the doctor gave me to take at home. The Vicodin got me to sleep, but I woke up at 4am (again!) in screaming pain. Another round in a hot shower, and now I'm doing somewhat ok (at 5:06am).
I'm going to be a bit hit or miss online for the next few days. I will report when this thing finally passes, and I can hopefully be in a pain-free world again.
Fuck. Getting one of these damn things sucked. Now another one? UGH!
A few notes on the last picture. I grabbed the first shirt I could find to put on to go to the hospital. Figures it was Mode. And, as for the candy...it was on sale. $1 a pack. I'll have treats for months. Hey - I deserve it. I'm friggin' giving birth here!