posted: November 24th, 2009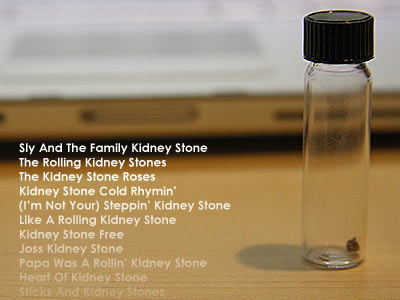 Instead of trying to explain this to every person who is contacting me (Twitter / Facebook / email / IM / et cetera), I will explain what is going on right here...
Last year, I had a kidney stone. Yep, my little baby is over a year old now (see above).
This year, I had a larger kidney stone. The pain was so bad, I had to go to the hospital...twice! Each time, essentially, the doctors said "Yep, you have a kidney stone.", and sent me on my way with a prescription and huge bills (five figures, people!).
When I went to the hospital the first time, the doctor made the following comment: "Yes, you have a very large stone. You also have two more on deck." Yikes.
The first stone made its way through my kidneys, but never fully left. The second stone: same thing.
Now, I have the last of three stones on the move, and fuck it hurts. As I can not afford another $8000+ hospital bill for some overpriced quack to go "Yep, that's a kidney stone", I have been just taking the remains of the Vicodin from the first trip this year. Sadly, it's not really easing the pain. The Vicodin worked earlier this year, but not so much now. I mean, seriously, for the Vegas Depeche Mode show, I was barely there. I had to pop a Vicodin before the show started, I was in so much pain. Ugh. At least the footage looks great.
So, to sum up. I had a BIG kidney stone last year (that I passed naturally). This year, I went to the hospital TWICE for just one stone, but found out there were two additional stones "on deck". What I am in agony with right now is the third of those three stones.
I stopped drinking about 90% of the soda I used to, dammit! Stones, leave me the fuck alone!
Oh - and the picture above contains some of the many "funny sayings" that my friends have come up with lately. Thanks for cracking jokes while I have fucking Alien trying to emerge from my kidney. Bastards. :P