posted: January 26th, 2010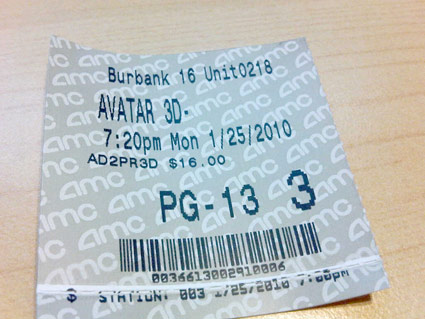 After being home for a little while after my $32 payout to see the Cameron hype, I have these conclusions:
$16 per f****** ticket!?!? "Sir, please be advised that the "Avatar" 3-D screening is a special event, and as such will be an additional $4." What!?!? It's already bad enough that I have to smuggle in food and drink to the Burbank AMC 16, but now I have to sit in a puddle of my own blood (read: my ass is bleeding from being raped). Are you kidding? Wow - James Cameron has the biggest movie of all time. OF COURSE HE DOES! Charge $16 for a ticket, and of course your movie is going to make more!
We have 3-D and cutting edge effects. Yeah, you sure do, Sparky. Maybe you should have taken a few dollars from the F/X budget for better acting! This made Starship Troopers look like Shakespeare! And, seriously, enough with the damn 3-D! Yeah, it's fun for a few minutes, but I had to sit through 2+ hours of crap movie. Having random 3-D effects did not improve the experience. It simply pissed me off that I had to wear glasses through the entire movie!
The Story. Yeah, I get it. Thinly veiled protest against war, and pro-nature. Sucked that I could tell what was going to happen at least 30 minutes before it happened.
The "Na'vi". Am I the only one who felt this was a bit off. Seriously, when I started seeing the characters all gathering together, swaying back and forth, joining together to pray to their "God", the movie lost me. Enough with the tribal ripoff crap. I was watching a movie about the future, and it turned into Lion King. Remember The Matrix? Everyone loved the Matrix. I loved the Matrix, until the part in Matrix Reloaded where the people of Zion started raving. What? What happened to the bullet time F/X? Why am I now watching sweaty people auditioning for the lead in Stomp? UGH!
The special effects are great, but a movie is more than CGI and over-used 3-D effects. Give me a proper story. Give me a movie that has substance. Give me a F****** reason to believe that my $16 is being well spent!
I have loads of DVDs (and Blu-Rays) in my collection. I love movies. This movie will never be entering the collection. The next time James Cameron makes a movie, I will not waste my money. I'll grab a copy for free online.
Movie Studios: Why do people pirate your movies? You make crap like this!
I want my $16 back (technically $32, as I paid for my girlfriend as well)!