posted: February 7th, 2011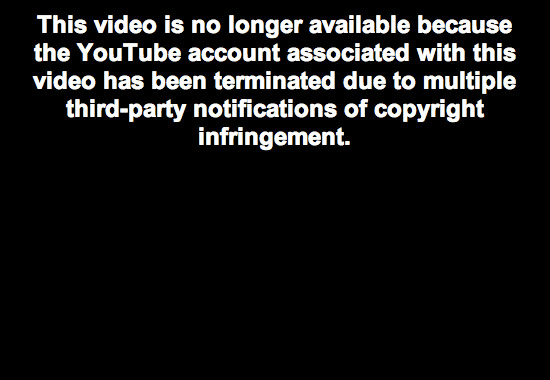 "Dude, you should put your mashups on YouTube. Everyone is doing it. You have to make videos for your mashups or you won't get enough exposure."
Fine. I caved in. I made videos for my mashups. I put them on YouTube. Some, like my Nine Inch Nails / Rick Astley "RickRoll" gained over 400,000 views. There was always a flaw, though. Copyrights...
I have had a very small (but loud minority of) people accuse me of being a hypocrite, as I maintain Depeche Mode's copyright account on YouTube. "How can you upload copyright infringing video, when you went and deleted mine?" Let's address that first. The ONLY videos I remove from YouTube are straight rips of home videos (Singles 86>98, 101, Devotional, et cetera), or content stolen from depechemode.com and then re-uploaded to YouTube. I have NEVER deleted any fan-made compilations, live clips, or TV performances (and only once was I asked to remove a bootleg, because the people at The Grammys did not have access to a copyright account). In other words, if you made something with content, other than just "rip, compress, maybe add a subtitle, then upload", I let it slide (99.9% of time time). Why? Because I am a fan too. Obviously, with the mashups, I have fun with the content. It's free (I own the material), I am not making any money from it (YouTube and it's advertisers definitely are), and it makes people happy.
After the first few hits (you are allowed three), I stopped using YouTube, and went to Vimeo, which is more of a "creatives" web site. In all honestly, YouTube is ads, music videos, pets, babies and the odd item being flung at crotches. It is not exactly a rocket science web site. At least the Vimeo footage has a bit more purpose.
Tonight, apparently the people who control Roy Orbison's estate took issue with me having Eddie Van Halen play guitar on Roy's "Oh Pretty Woman" song. So, tonight, The Orbison family killed every video I had on YouTube, including all the non-mashup videos.
It's not like I don't have them all backed up here on multiple drives. It's not like I can't just upload them all to Vimeo (which I will), or to my personal site (which I also will, as a backup). It is rather bullshit, though, when so many other people have put up "fan creations" that were ABSOLUTE SHIT, and they remain, while my mashup videos got yanked.
Farewell, YouTube. I did fine without you before, and I will continue on.
...and a special FUCK YOU to Rick Astley, NBC/Universal and the Orbison Family for getting me deleted. In order: YouTube resurrected your career, you are a huge monopoly that needs to be policed before you take over the world, and...seriously?