posted: February 7th, 2013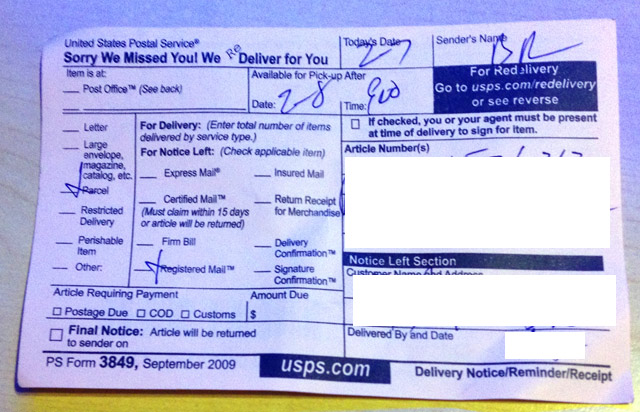 I have (a few) mailmen. They all seem to enjoy doing the same thing. Instead of actually bringing me my package, they simply deliver one of these fucking pink slips. "Oops...sorry. We missed you."...except, they didn't! On more than one occasion, I have caught these guys just walking up with the slip to my door, instead of my package. When I call them on it, they act as if I am causing them some sort of painful chore.
IT'S YOUR FUCKING JOB! YOU ARE A POSTAL DELIVERY PERSON!
Seriously, it doesn't get more basic that that. You are a mailman. Deliver the fucking mail.
I (pointlessly) went to complain (again) abut this today. The small, old pre-angry lady clearly didn't have any fucks left to give. "Oh, you have to complain to the supervisor." "Fine. I'm here. Where's the supervisor?" "Oh, no. They leave by 9am. You'd have to call." (as if the idea of phone communication would turn me away...it did not).
Frustrated, I go to check my P.O. Box. When I come back, the small, old pre-angry lady is having a rather loud laugh at my expense. "Oh, you just missed it. This guy was complaining about not getting his package. Ha ha ha ha..." As she is laughing, she makes direct eye contact with me, and CONTINUES LAUGHING!
I have complained before to supervisors. As with the small, old pre-angry lady, they also have no fucks left to give.
Why the hell should I have to keep wasting my gas money to go to the post office because some idiot couldn't bother to deliver some vinyl? How does this fuck still have a job?
If you'll excuse me, I have to go set my alarm so I can wake up super early to call the post office...like they ever answer the damn phone!