posted: August 13th, 2013
I was driving down Moorpark Street this afternoon, and listening to a mp3 of the TED talk from Mike Rowe (Dirty Jobs). I passed Colfax Avenue, enjoying the words of Mr. Rowe, when my car decided to die. When I say "die", it was as if I had turned the key off on the car while in drive (and going ever so slightly above the speed limit). One minute I am fine, then the "Check Engine" light goes "BING" and the car just turns off. I immediately lost steering and brakes. So...there I am, driving "a little" over the speed limit, the car is dead, and I am veering into oncoming traffic. Fun times.
After scaring the hell out of a lady in a Mercedes -- and myself -- as I was entering her side of the road, I grabbed hard onto the wheel, and finally managed to get the car to go to the right, pulling over to the safety of the curb. The car isn't turning over, and steering is near impossible, but I managed to avoid a bad head-on collision.
I then spend almost an hour with Shaniqua (real name) from Mercury Insurance Roadside Assistance. An hour. 60 fucking minutes, waiting for this lady to simply pull up my info, see where I am on a map, and get me a tow truck. Side note: go back to using AAA for roadside assistance. This is part of the phone exchange:
"Is that veen-tee-ru?"
"Seriously? VENTURA BOULEVARD! VEN-TU-RA! And, no, I am not on Ventura Boulevard! Your GPS info is wrong!"
"Oh...sorry sir. So you are on VEN-tura?"
"NO! I said Morella and Moorpark! UGH!"
During my wait, something happened that never happens in Los Angeles. A friend drove by me. Los Angeles is not a small town. You almost never bump into people in L.A., so it was really a bit of a luck that Chris drove by. I yelled as him as he drove by, he turned around, and I had some company while I lost patience with Shaniqua.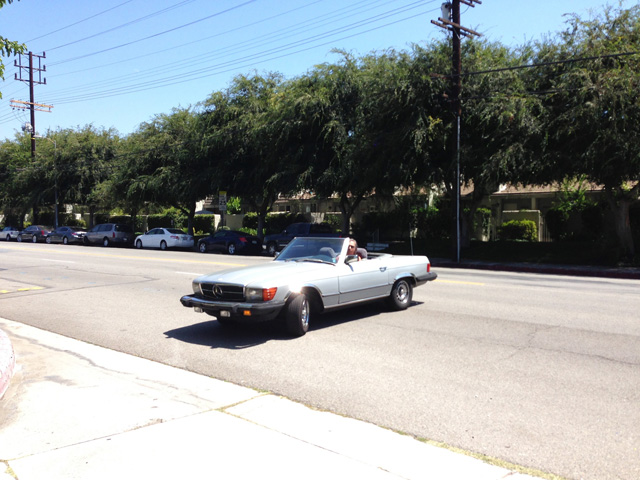 Eventually (about 80 minutes after almost plowing head-first into a Mercedes at a high rate of speed), the tow truck came, and my baby had her first tow truck ride (boooo!). The car got towed to the dealership. Sadly, no one at the dealership ever looked at my car. It was there for three hours (from around 3pm to close at 6pm), and they just let it sit. So...now I am without a car, without a clue on what the hell happened to my car, and without any idea of how much it is going to cost to fix my car.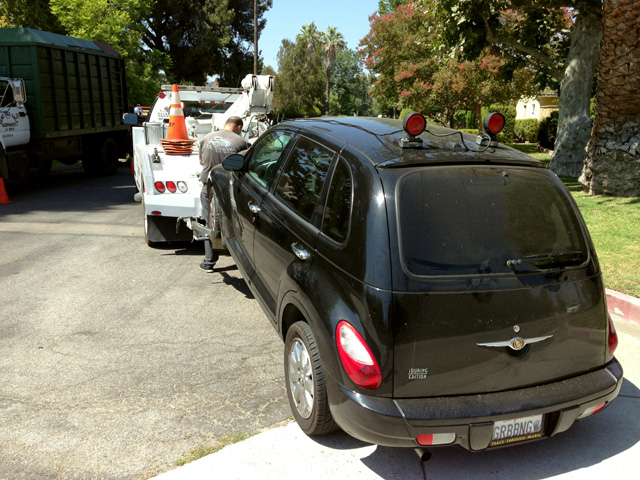 I'm happy to be alive, but - fuck. I really need the bad luck to fucking end. I've had enough. Sorry to whine, but just in the last few months: A kidney stone, a desperate need to go to a dentist (with no money to actually go), lying promoters costing me money and time, a bank account that regularly goes down to single digits, and now my car almost kills me. Fuck. And, no, I have no cheese to go with the "whine", but I could really use some cheddar right now.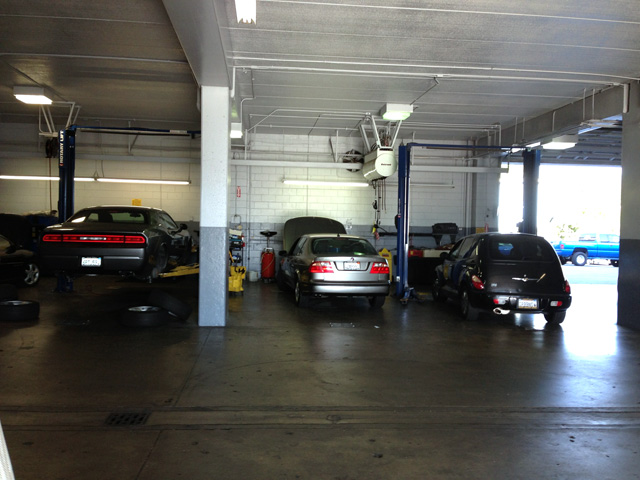 FYI, Final Destination One was when Asif crashed us into a 18 wheeler at 94 mph. Walked away without a scratch.