posted: July 22nd, 2007
Sunday morning. I wake up at 6:15am. Nora rushes me to L.A.X.
Check in. Get every inch of my body searched. Sit, and wait to get on board.
9:00am. Find out the flight was overbooked. Sweat bullets, begging Delta to get me on the plane. Finally manage to get a window seat, in the back, near the bathrooms (ewww).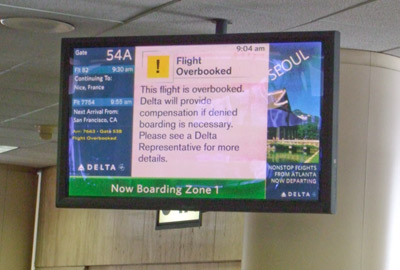 One Bonine and two Benadryl do nothing to sedate my ass. I am awake for the flight. Fuck. And what a shitty flight! Apparently there was a problem with traffic at JFK, so we had to circle around the Detroit area for a while, being sure to hit every cloud bank that could be found (translation: horrific turbulence).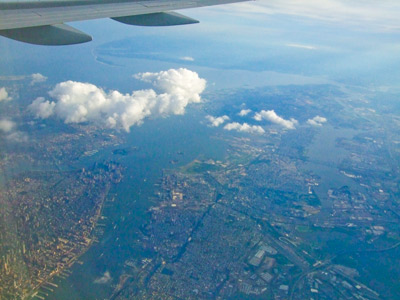 Finally land. The flight was so bad, the captive crowd APPLAUDED after the "Welcome To New York" announcement. Just after that, we had to sit for 20 minutes on the runway! FUCK!!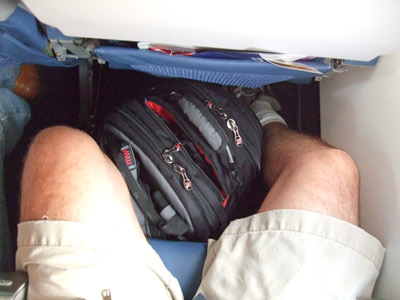 Finally get off the plane, and proceed to the cocktease of a baggage claim. Noisest baggage claim ever, which kept starting, then stopping. Over 30 minutes to get one bag (which someone was nice enough to remove my bag strap from - BASTARDS)!
Video of the airport fun (end of flight / no luggage / luggage after 20 minutes - QuickTime mp4 video / 50 seconds)
Then, the real fun. I go to get a town car, and some big guy comes up and starts saying "you'll go in my car. You'll like it." I push him back, saying "no", and he proceeds to push me over a suitcase, shattering my $200+ Raybans in the process. Cop right there. Does nothing.
Welcome to New York.
Don't even get me started on the hotel I am staying at. You ever see the scene in "Big" where Tom Hanks goes to New York City, gets a room, and hears all the gunshots and screams outside. That shit is Disneyland compared to this place! $169/night?
Someone is having a huge laugh at my expense.