A pain that I am not used to...

posted: April 11th, 2008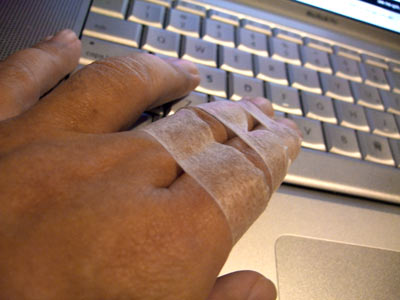 I really did it now.
For the next week, I get to enjoy trying to code/moderate/edit with my fingers taped together. :P
Apparently, I have been working so hard that I sprained my left pointer finger. For the last few weeks, I have been having the pleasure of having increasing pain in my finger. I finally broke down last night (11pm), and went to CVS. The pharmacist on duty said I had a rather severe sprain. The remedy? Tie your fingers together.
Joy.
I was looking for a way to make my worker harder. Yay me. Found it!
Grrr....