posted: May 4th, 2008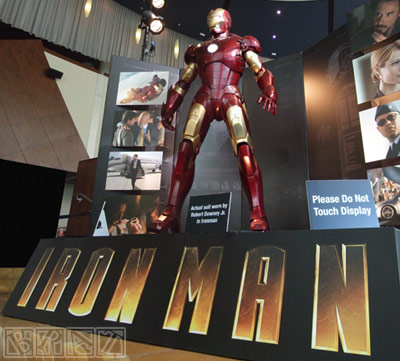 I can not possibly stress how necessary it is to go see Iron Man. I almost forgot what it was like to go to the theater, and actually witness a good movie!
I have a horrible cold. I feel like crap. I am on many drugs. I piled on the cough suppressants, and went with the little woman to ArcLight Hollywood today (2:30pm showing, in the dome). Essential movie watching! Stay until the credits finish. You will thank me.
At the ArcLight, for the opening weekend, they had a special Iron Man display, consisting of Tony Stark's drool-inducing Audi R8, as well as the actual Iron Man outfit used in the movie.
Enjoy the images. They are odd sizes, but only because most are panoramic shots. My little Fuji F40 does not do panoramics natually, but Photoshop does. I am addicted to creating panoramics now. :)
I dont know what I want more. The car, or the GUI used in the movie. Drool....