posted: May 7th, 2008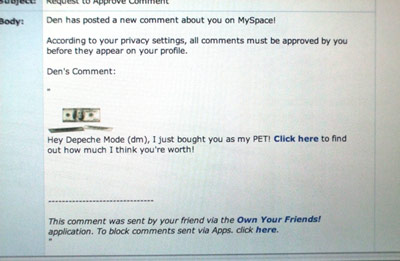 That's it! I have had it!
I went to do my normal comment moderating on MySpace. Keep in mind, you have to be a friend of Depeche Mode to leave a comment. You have to fill out a Captcha to leave a comment. Still, spammers spam the fuck out of the profile.
How can I tell? Besides the obvious sales pitch, note the name they call Depeche Mode. They type "Depeche Mode (dm)". I intentioanlly changed the band's profile name months ago, just to catch spammers.
Who the fuck buys anything from spam? Seriously! Have you EVER heard one person ever say "Hey, Bob, yeah, those penis pills are great!" or "Gosh Susie, ever since I signed up for those discount pills from the fparmcay, I have felt SO much better!". No. And why not? Because no one buys this shit! Someone send me physical street addresses to spammers. I have a car, a nice Louisville Slugger, and will make the time to go Untouchables on any and all spammers!
FUCK!
Here's a video of me using my MySpace script to just keep clicking "delete" on the spam. I used to mark it as spam, but as of today, I just turned off the fucking comments on the MySpace profiles. It was my decision, and I stand by it. Fans that want to talk to each other can still either talk to all the people in the "Friend's List", or - better yet - just go to the official DM forum. It's easy, free, and SPAM FREE!
Watch the video. Seriously. This is not edited. This is how many spams there were IN A ROW! GRRR... Look at the usernames that pop up. It's, like, the same few fucking assholes, flooding the account.
I fucking hate spam! ARGH!