posted: May 7th, 2008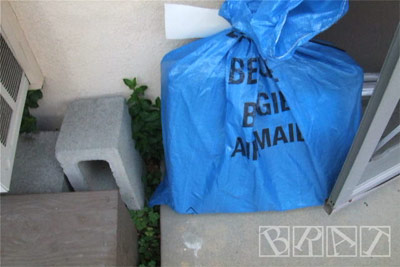 >
I can't believe I'm making a third one of these.
EMI: LEARN HOW TO SHIP PROPERLY!
The mail delivery person sheepishly knocked, and then ran. By the time I grabbed my camera, hit record, and made it to the door, she was gone. I wanted her, on video, explaining why these blue bags keep coming to me.
Enjoy (???) the video of me sifting through the remains of postal packaging. :P
Dave Gahan fans. More giveaways coming soon! And...good news...they are all in one piece! :P
Recoil fans. Well...I can't officially give away a Recoil t shirt on a Depeche Mode web site (should be obvious why), so the first person to leave a comment on this specific blog post gets the Recoil promo shirt!
Hourglass Remixes vinyl. Another Hourglass Remixes test pressing to give away (yay for you all!), and some shirts to give away. No jewel cases to shatter this time, but since the package was open, who knows what else was SUPPOSED to be in that box, before the Belgium Post Office threw it in a nasty blue burlap bag. :P