posted: July 3rd, 2008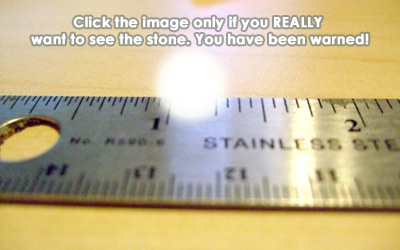 Crohn's disease. My mom had this. Add to that I.B.S., and a new one: Kidney Stones.
Seriously?
From Wikipedia: "Kidney stones are also more common in patients with Crohn's disease"
That was news to me.
The doctor who helped me with my Immodium nightmare said that I might also have Kidney Stones. I forgot about that, until this morning. Wake up, go to the bathroom...la la la la CLANK la la la la.
What the hell!?!
When you wake up from a horrible night of "sleep" (3 hours is not "sleep" - that is a nap), go to the bathroom with unfocused eyes, and hear a clank, you become - well, how should we say this - alarmed.
Scratch Diet Coke off my menu from now on...dammit!
I'm off to make a little home for my painful little friend. Let's hope he doesn't invite any more friends. :P
A bit off-topic: Some of you who email me about these blog entries (thanks, by the way - I enjoy the feedback) wonder how I can be, to quote some people, "fearless" in my postings. I have no idea. I'm just very honest. If I have an opinion, or a situation, I will discuss it without any censorship (other than the button at the top of the blog for viewing at work). I don't look at it as having "no fear". I just talk about what is affecting me, and hope it helps other people, be it fair use of Cable TV, suggestions for living with nightmares like MySpace, or health issues.