posted: September 22nd, 2008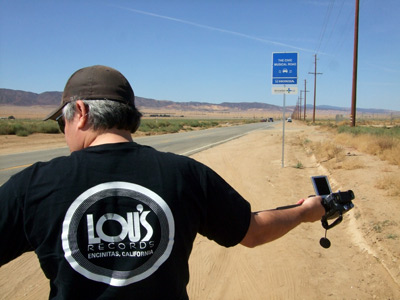 Honda created one of only four "musical roads" in the world, in the city of Lancaster, California,. It is the only musical road in all of North America.
Apparently it's been around for a few weeks, but I only just learned about it over the weekend, via Laist.
I called my friend Asif, and planned a Monday morning drive up to Lancaster (about 75 minutes North of good ol' Burbank).
Sadly, a few local residents have complained about the constant off-key drone, and (unless something changes) on September 23rd, the city of Lancaster will be caving in to the requests of a few people, and paving over the very unique feature of the city.
Honestly, there is no other reason to go to Lancaster. The road is cool, it gets people to come to an otherwise boring town (sorry Lancaster residents - I am used to the activity in L.A.), and it's a shame to see the road go. Even the person closest to the musical road actually wants to save the road. Check out this news feature from KNBC HD (46.9 meg mpeg4 video)
If only Honda had made the musical road about one mile more West, no one would have complained. There's no homes there.
Enjoy the video...