TRACKS:
Echo & The Bunnymen - "The Killing Moon"(acapella from unnamed source)
U.N.K.L.E. - "Follow Me Down" (instrumental from "Where Did The Night Fall" bonus disc)

DESCRIPTION:
One of my all-time favorite Echo tracks...acapella! I had only picked up the U.N.K.L.E. CD a few days after I "acquired" the acapella track. I am glad I found it. The tracks go together really well!
Enjoy!
File uploaded: January 14th, 2011

CELEBRITY ENDORSEMENT!
Echo & The Bunnymen tweeted my mashup out to their followers on February 11th, 2011. Thanks guys!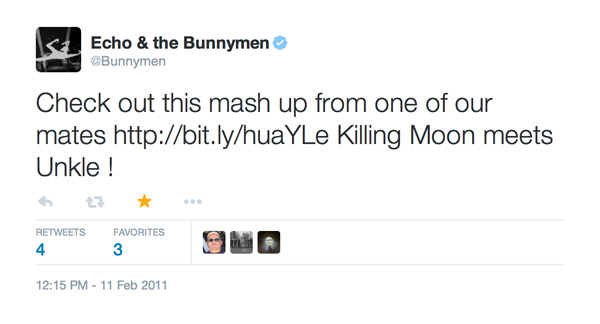 Download this audio file
MP3
Share on social media
Copy the link above to manually share