TRACKS:
The Smiths - "Oscillate Wildly" (Slightly Re-edited Album Version)
Michael Jackson - "Rock With You" (Acapella from unnamed source)

DESCRIPTION:
Where do I start? Before Smiths fans get pissed off at me, let me try to explain...
I've always loved Oscillate Wildly. It's a great song. I've also always loved Michael Jackson's "Off The Wall" album (specifically "Rock With You"). Yeah...you can have Thriller. I'll take Off The Wall anyday.
When the acapella for MJ floated into my inbox, I nearly shit myself. I spent a few hours trying to think of a suitable song. As much as I didn't want to face it, The Smiths song was a perfect fit.
I know some people get bent out of shape when I mix genres like this, but I don't understand why. It's all good music. What's the problem?
This mix was done out of love, not sarcasm. Please don't fill my inbox with hate. K thx bye. :)
File uploaded: November 25th, 2013

CELEBRITY ENDORSEMENT!
Mike Joyce of The Smiths tweeted my mashup out to his followers on November 26th, 2013. Mike is a brave man. :)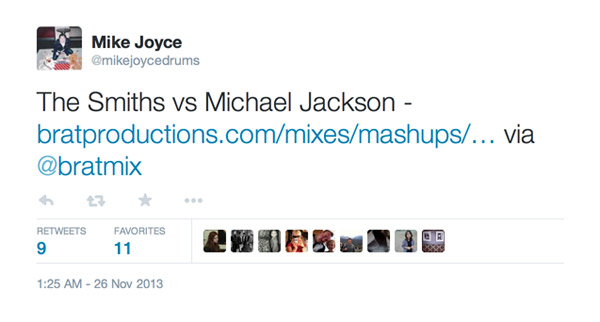 Download this audio file
MP3
Share on social media
Copy the link above to manually share